Assisted Living Medication Management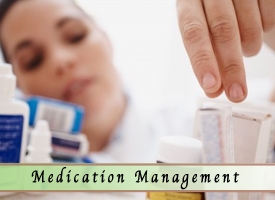 Medication management for elders can be a minefield. Elders are often treated by several doctors, and each doctor may have prescribed medications. In combination, all of the prescriptions from all of the doctors produce a complex daily medication schedule. The situation also raises thorny issues like these:
Does each doctor know about all of the prescriptions written by all of the other doctors?
Have the prescriptions been researched for possible adverse drug interactions and side effects?
Are all of the prescriptions being filled?
Are the medications organized in a weekly pillbox so that the elder gets the proper medications at the proper times?
Is the elder actually taking the medications?
If Medicare and supplemental insurance are available, are claims and other issues being resolved?
It's no wonder that many elders need help in keeping everything straight. In addition, some elders try to economize by taking reduced doses of prescribed medication or by deciding not to take it at all.
If your elder needs medication support or supervision that you can't provide yourself, you should know that you have options to consider. Many assisted living facilities, for example, offer help with basic healthcare needs, including medication management. For more active elders, some senior housing communities provide medication management. These are all living arrangements in which caring healthcare professionals are responsible for making sure that medications are taken as prescribed. That's good for your elder's health and good for your own peace of mind.
77.5% of residents needed assistance with medications
Residents were taking an average of:
10 routine medications
3 PRN medications
13 total medications
Always prepare and administer medication(s) to clients in a safe, effective and ethical manner. Making sure that all of the necessary steps are taken to ensure that there are no errors in the medications are made:
Ensuring that the client receives appropriate education about the treatment plan and current medication;
Ensuring that the client or the client's substitute decision-maker has given consent to administer the medication;
Preparing and administering the medication according to an evidence-based rationale;
Obtaining a new supply of medication if there are concerns about how the medication has been maintained;
Applying principles of infection prevention and control when administering medication;
Verifying:

The right client,
the right medication,
the right reason,
the right dose,
the right frequency,
the right route,
the right site, and
the right time;

Ensuring that the client receives appropriate monitoring during and after administering the medication, and intervening if necessary;
Documenting, during and/or after medication administration, in the client's record according to documentation standards; and
Advocating for appropriate environmental supports to ensure clients receive safe, effective and ethical care.
Employees also need to evaluate after resident has taken medication. This is just to ensure that the resident does not have an adverse result. Even if resident is self administer the following steps still need to be followed:
Recognizing client outcomes following medication administration, including effectiveness, side effects, signs of adverse reactions and/or drug interactions;
Following up with the prescriber regarding any concerns or questions about the medication;
Referring clients to the appropriate care provider for further assessment and follow-up when necessary (for example, when the underlying problem persists despite PRN medication);
Documenting actions taken or advice given and client outcomes according to documentation standards;
Documenting, when appropriate, if the client is capable of self-administering the medication, including the type of assistance the client requires, if any, and the ongoing nursing assessment of the client's capacity to continue self-administration; and
Advocating for adequate resources and systems that facilitate safe, effective administration according to standards.
Employers have a shared responsibility to create safe practice environments. Quality practice settings include appropriate staff, medication systems (for example, delivery, administration, policies, procedures) and environments to facilitate safe, effective and ethical care. The following section provides information and resources to help employers work together to prevent and resolve medication issues.
Safe Medication Practices
To support safe medication practice, systems need to be in place to track, address and learn from any medication errors that occur in the practice environment.
A medication error is defined as any preventable event that may cause or lead to inappropriate medication use or client harm while the medication is in the control of the health care professional, client or consumer. Such events may be related to professional practice, health care products, procedures and systems, including prescribing; order communication; product labeling, packaging and nomenclature; compounding; dispensing; distribution; administration; education; monitoring and use.

Medication errors can be further classified into errors of commission (for example, giving the wrong medication) and errors of omission (for example, not administering an ordered medication), which can result in an adverse drug event resulting in harm, injury or death. Or, it could result in a "near miss." In this situation, an error does not reach the client, but had it, the client could have been harmed. (For example, a wrong dose is prescribed but is intercepted before administration.) When an error is made, the employee must ensure the well-being of the client and limit the client's exposure to any potential harm. The plan of action will depend on the problem(s) identified. Some strategies to address problems are system modifications, in-service education, individual assistance and potential performance management.

Safe medication practice includes:
Advocating for setting-specific, accessible, current medication information, such as drug formularies;
Evaluating the need for a colleague to conduct an independent double-check on a prepared medication; meeting and being aware of the facility's expectations on independently double-checking preparations;
Advocating for written policies and supporting processes when the practice setting requires independently double-checking preparations;
Having knowledge of high alert medications for the practice setting (for example, chemotherapeutic agents);
Avoiding the use of error-prone abbreviations, dose designations and symbols, and advocating for a policy on the use of acceptable abbreviations;
Reporting all errors and near misses using formal practice-setting communication mechanisms; advocating for organizational systems and policies that promote continuity and safety of client medication administration during transfer of care and at transition points;
Ensuring that the client or the client's substitute decision-maker has the most complete and accurate list possible of all medications currently being taken;
Communicating to the client and appropriate caregivers the current list of medications during transfer of accountability;
Addressing system issues that contributes to medication errors;
Advocating for and/or participating in interdisciplinary error-reporting and root cause system analysis;
Advocating for facility policies and/or procedures regarding disclosure of adverse events; and
Following legislation and/or advocating for practice setting policies and procedures regarding the storage, counting, administration and disposal of medication
Adverse Reaction
Undesirable physical reactions to health products, including drugs, medical devices and natural health products. Drugs include prescription and non-prescription pharmaceuticals; biologically derived products such as vaccines, serums and blood derived products; cells, tissues and organs; disinfectants and radiopharmaceuticals.

Authorizing Mechanism
An order, initiation, directive or delegation – it is a means specified in legislation or described in a practice standard or guideline through which nurses obtain the authority to perform a procedure or make the decision to perform a procedure.

High Alert Medications
Drugs that bear a heightened risk of causing significant client harm when they are used in error.

Independent Double-Check
A process that ensures that a second practitioner conducts a verification, either in the presence or absence of the first practitioner. For example, a nurse may use this process to verify a dosage calculation. The most critical aspect is to ensure that the first health care provider does not communicate what he or she expects the second practitioner to find; this would reduce the visibility of a mistake.

Medication Information
Information about a specific drug such as indications, appropriate dose, precautions, contraindications, drug/food interactions, expected outcomes, potential adverse reactions, side effects and how to minimize and treat them, high alert medications, special consideration, storage and administration.

Telephone Order
An order communicated via telephone by an authorizer who is not physically present to write the order. The person accepting the order must have knowledge of the client, including his or her health history and treatment plan. Ultimately, the person implementing the order is accountable for ensuring that the order is appropriate. Practice settings should establish procedures for timely sign-off by the authorizer of the telephone order.

Transfer of Accountability
An interactive process of transferring client-specific information from one caregiver to another or from one team of caregivers to another for the purpose of ensuring the continuity of care and the safety of the client.

Verbal Order
An order that is communicated by an authorizer who is present in the practice environment but is unable to document the order. Verbal orders must only be used in emergency situations or when the prescriber is unable to document the order, such as in the operating room.

Controlled Substance
Any type of drug that the federal government has categorized as having a higher-than-average potential for abuse or addiction. Such drugs are divided into categories based on their potential for abuse or addiction. Controlled substances range from illegal street drugs to prescription medications.
When Using Medication Brought From Home
In some settings, such as geriatric daycare centers, clients bring their medications from home. Nurses may administer these medications if they are in their original dispensing containers (that is, not in an envelope or assistive device for self-administration). If the information provided by the client or the client's representative is different from that on the dispensing label, the nurse needs to use her or his judgment about the appropriateness of following the directions and follow up with the prescriber when required. The nurse should document the discrepancy and her or his rationale for following the chosen directions.
Over-The-Counter (OTC) Medication Without An Order
Medications and preparations that do not require a prescription; for example,herbal therapies and acetaminophen. OTC medications are not part of the act of prescribing. In some situations, however, the nurse's role may include administering or recommending OTC medications to clients. Employee's can not recommend any OTC with out talking to the clients Doctor to verify that the client is will be safe taken the OTC. Every one must have the knowledge, skill and judgment about the client's situation; the client's condition and medication profile; and the medication. Legislation or organizational policies may require an order from an authorized prescriber.

Placebo
A pharmacologically inert substance that has no physiological effect. Administering placebos to clients without their knowledge and informed consent is inappropriate and unacceptable.

Placebos may be administered:
When prescribed with client consent because the client experiences a placebo effect; and/or as part of a double-blind research study in which the client has been informed, as part of the consent process, that he or she may receive a placebo.
PRN Medication(s)
Medications that are prescribed and administered as needed. The order includes the frequency, such as Q4H, and the purpose (for example, sleep, pain or nausea). Employee's must have current knowledge of the use and action of PRNs, as well as the competence to assess the need for PRNs and whether to administer them to a client.

Range Doses
Dosages, frequencies or routes that are prescribed in ranges (for example, Gravol 50–100 mg for nausea). Most medications are not prescribed in range doses; however, range doses are used in situations in which the need for the amount of a drug varies from day to day or within the same day. Range doses give the flexibility to administer the dose that best suits the assessment of the client.

Self-Administration
Administrating one's own medication. Clients may self-administer their medications at home and in some agencies to develop or maintain an optimal level of functioning and independence. Clients who self-administer may be completely independent, or may require some assistance, such as reminders, help opening containers or assistive devices (for example, dosettes), or help in filling assistive devices. Employee must ensure that medications are securely stored.