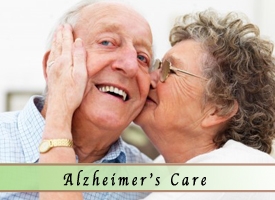 Here at Safe Haven assisted living home in Atlanta, we understand dealing with a loved one that has Alzheimer's can be a truly stressful and overwhelming job. Our goal is to assist and make that transition a little easier.
Our state of the art Alzheimer's care program is not just for our residents but their families also. We want our clients families to be involved that why we have an open door policy. Our goal at Safe Haven is to keep our residents happy and active as long as possible with out overwhelming them.
We have found that in dealing with Alzheimer's/Dementia residents, you need to try to find out what your residents like and their individual needs, read their history, talk to their families, and ask them about the life they lead up until the were diagnosed . We want to know their likes and dislikes so that we may customize their day to day activities to best fit their needs. We have found that different activities will works best on some days and times and will have other effects on other days and times. The best thing to remember is that the residents are not babies and should be treated with respect at all times. We want to have fun with our residents and keep them busy, we know that once the sunset's residents may experience restless behavior towards the late afternoon hours; this is where our customized schedule might come in. Getting to know a resident is getting to know what they enjoy doing, when a resident becomes restless during this time it allows us to use a "redirecting system", giving the resident an activity to focus on rather than what is happening around them or the time of day it is. We try to keep them on a consistent program at all times, which is another way that helps residents stay on a steady pace.
Further, we believe our assisted living patients deserve to have their special and specific needs met in a sheltered low stress environment. Our home is a secure facility so that even the very agitated patient is protected and cared for safely within the home boundaries. Some of our safety features include the following: To protect our clients who are prone to wandering, we use an electronic security system that alerts staff of unauthorized exit. We use state of the art listening devices to monitor the sound in all bedrooms during sleeping hours and all common areas are video monitored for added safety and quick response. In addition, we have 24 hour awake-staff instead of live-in caregivers.
At Safe Haven of Atlanta, we belief that aggressive-combative behavior of patients with Alzheimer's are often a symptom of unmet needs. The task of the caregiver is to view the world through the resident's eyes and uncover that need, rather than trying to force the resident to see reason or to orient them to reality. We understand that every Alzheimer's patient is different, and every patient will have challenging days or moods. Many behaviors are triggered by confrontational approaches of the caregiver. We believe having a staff that understands the psychology of dementia and is trained to redirect the patient's anger or frustration will minimize restlessness and aggression.
Dementia sufferers experience an increasing inability to remember, reason, solve problems, interpret the environment, and communicate. It is not uncommon that the only way the patient can figure out how to communicate is by shouting, pushing, or slapping. Understanding why a patient is behaving in a particular manner is essential to helping them recover a feeling of well-being. Typically, the resident is frustrated over being unable trying to say something or express his fears or anxieties, although he or she may also be experiencing constipation, is unable to locate the restroom, or is in pain.
Our ultimate aim is to ensure that our residents are safe, clean, content, comfortable, well-nourished and stress free.
At Safe Haven, caring for a resident with Alzheimer's is not only a matter of defusing crisis, it is also care by intentional design. A lot of focus and attention was put into devising an interior space that reflects safety, security, and comfort without compromising the residential impression. Our home setting creates a warm, recognizable familiarity, promises privacy, and encourages socialization and family involvement.

While maintaining a home-like atmosphere, our environment addresses the unique cognitive and physical needs of the dementia population. The light colored walls have a soothing effect on the mood while large windows can be selectively used to give residents external stimulation from the natural environment.
Experiencing and enjoying the outdoor environment is an integral part our philosophy of care. Outdoor space helps the resident feel connected to the world around them. Walking out doors also helps reduce anxiety and agitation. Two safe outdoor spaces are available for activities: a courtyard with sitting area and a 25 acre section of Lenox Park with 2 lakes. If they prefer it, residents also have the choice of sitting on the front porch and watching the world pass by.
Sorting:
Get items that can be sorted by the residents such as Buttons (different sizes and colors), poker chips, balls, bottle caps, forks, spoons, rocks, etc. Have residents sort items out, make sure to always have staff by the resident to watch that they don't eat items.

Play dough/Clay:
Give resident some clay or play dough and have them make something, anything. This is good exercise for their hands.

Book Making:
Have your residents go through different magazines and look for a specific item. Examples: birds, ladies, babies, cats, dogs, food, cars etc. then have residents cut the items out and make their own "books".

What's in the Bag?
Get a bag and fill it with different items such as cotton balls, sandpaper, leaves, newspaper, felt, q-tips, golf ball, sock, clothespin, etc, then have residents take turns and feel what's in the bag, and tell you what the items are.

Stringing:
Get Cheerios, fruit loops, popcorn, or honey combs cereal and some string and let your resident's string up a chain to put outside for the birds. This activity is fun because they can eat some while they make their chains.

Cooking Class:
Make a fruit salad: get different fruits and have residents cut up with plastic knives, add whipped cream or plain yogurt, Yummy! BBQ: get a small/large George Foreman Grill and buy some hot dogs and have a BBQ!! The George Foreman Grill is great to have for your facility because its small, cleans up easy, and the smell of the cooking item on the grill is wonderful for the resident's .Other items to grill: Grilled Cheese Sandwiches, Chicken Breasts for Chicken Salad & Quesadillas.

Other stuff to make:
Tuna Salad, Smoothies, Ice cream Sundaes, Pizza Boats & Nachos.

Pet Therapy:
I have found that if you can have animals at your facility, do it!!! They can be a lot of work but they residents really respond to dogs, cats, rabbits, birds, turtles and most any animals. And the fun part is that you can get your residents to help with their care, feeding, and walking the dogs.

Ball Toss:
Get some residents and a ball and have some fun, place residents in a circle and roll ball towards residents, let them kick it or toss it.

Life skills:
Have residents fold clothes, sweep, dust, vacuum and set dining room tables. Alzheimer's residents love to help. I have found that if you say "I am so busy, can you help me fold these clothes Mrs. Johnson" they will love to do it.

Exercise:
Take your residents outside for a walk; always take a caregiver or someone else with you and a cell phone if possible.

Music Appreciation:
Music soothes the soul, put on some music any kind of music and just sit back with your residents and listen, some residents may sing along, some will dance, anything goes. Have fun!
Sample of Daily Schedules
Sunday:

8:00 – Breakfast
8:30 – Clean-up
9:00 – Facials w/ Quala (Additional Charges may Apply)
10:00 – Bagels and News
10:30 – Seniorcise
11:00 – Family Visits
12:00 – Lunch time
1:00 – Life skills
2:00 – Church Visits
3:00 – Snack Time
4:00 – Fun and Games
5:00 – Dinner time
6:00 – Music Appreciation

Mondays, Wednesdays, Fridays:

8:00 – Breakfast
8:30 – Clean-up
9:00 – Grooming
9:30 – Morning Social
10:00 – Coffee, Current Events, and Chats
10:30 – Groovin' to the Oldies exercise class
11:00 – Life skills
12:00 – Lunchtime
1:00 – Outdoor activity group
2:00 – Snack Time
3:00 – Music Hour
4:00 – Nature Walk
5:00 – Dinner
6:00 – Evening Bingo

Saturday:

8:00 – Breakfast
8:30 – Clean-up
9:00 – Beauty / Grooming skills
9:30 – Meet and Greet
10:00 – Muffin Madness / Tea
10:30 – Music Movement
11:00 – Crafts
12:00 – Lunchtime
1:00 – Life skills
1:30 – Pet Therapy
2:00 – Snack time
2:30 – Outing-Shopping trip-Wal-Mart
5:00 – Dinner
6:00 – Movie Matinee